750 million Chinese are expected to travel this upcoming National Day Golden Week (1 Oct – 7 Oct).
More importantly, with Q2 2016 data tracking showing a 16% y-o-y increase in outbound travelling from China, those jetting overseas from the 750 million mentioned above are expected to surpass the record of 4 million Chinese who traveled abroad during last year's National Day Golden Week.
That's 85% of the entire population of New Zealand, which currently stands at 4.717 million to date.2
After all, with approximately 760 million workers in China getting a week off work during Golden Week – most who would opt to travel back to their hometowns or go for a family trip – that means a mad scramble for scarce transport tickets, expensive hotels, being packed like sardines at popular tourist attractions, and massive traffic congestion3, such as the monster 50-lane traffic jam seen in Beijing after last year's Golden Week 2015.4
It's certainly no wonder that more and more Chinese are choosing to head overseas to beat the domestic crowds during Golden Week.
Golden Week – what's all the fuss about?
Golden Week has been a money-spinner across the globe in recent years.
A perfect example of it would be two of last year's biggest Golden Week winners: Japan, which raked in $830 million from 400,000 Chinese tourists in just that one week5, and the UK, which was predicted to have scored more than £600m in sales during the same period.6
And with China ranking first in the world in terms of overseas spending – Chinese tourists' overseas spending saw a 25% y-o-y increase to hit $292 billion in 20157 – the prospect of another bumper Golden Week sales season looks very strong indeed.
Indeed, as one of two annual weeklong public holidays in China, the National Day Golden Week offers a huge opportunity for many to capitalise – especially seeing the fast-growing flow of overseas spending from China's big spenders.
That said, where will Chinese tourists be heading to this October Golden Week?
Over 4 million Chinese outbound travellers: where are they going?
According to Hurun Report8, the following spots are some of the most preferred travel destinations for Chinese tourists, so here's where we can expect to see an influx during this National Day Golden Week:
Japan
The #1 top holiday destinations for Chinese during the Chinese New Year Golden Week8, Japan's culture, increasingly open visa policy, and extensive duty-free retail offerings – especially its feature-laden high-tech gadgets and household appliances – are just some of its unique appeal for Chinese visitors. What's more, Japan looks set to remain a hotspot for Chinese tourists – a record-breaking 731,400 Chinese visited Japan in July 2016 alone, up 26.8% y-o-y.9
United States
A longtime hotspot for Chinese travellers, especially because of enticing locations such as Californiaand New York, the US certainly is an evergreen holiday choice for Chinese travellers – arrivals from China totalled 661,988 in Q1 2016 this year, up 16.8%.10 The influx of mainland China visitors is also a major factor that has driven the $93 billion in residential real estate by Chinese buyers between 2010 and 2015.11
United Kingdom
From Harry Potter to the British Monarchy, and from the Buckingham Palace to the luxury shopping haven that is Bicester Village21, the UK holds much fascination and great appeal to Chinese tourists. Now with the post-Brexit impact that has seen the RMB strengthening by close to 10% against the British Pound, Chinese tourists are already flocking towards the UK.22 In fact, Chinese demand for UK properties have surged post-Brexit as well, so you can bet that the UK will be on the list for Chinese this Golden Week.
Competition for Chinese wallets ratchets up: who benefits?
As Golden Week becomes a global phenomenon, more and more businesses are wising up to its potential as a highly lucrative sales season.
Retailers such as Macy's recognises the importance of the period, and carries extensive in-store and online promotions to capitalise on the increased flow of Chinese buyers23, as does other notable retail names such as Harrods and Harvey Nichols in London.24
Retailers aside, real estate is a prime target to capitalise during Golden Week too. Last year's Golden Week saw a Sydney-based Australian selling their Maroubra estate for AUS$10.5 million to a Chinese couple, who flew in to seal the deal.25
And with China's new government policies attempting to cool down its real estate market, following a property boom during the past 18 months, Chinese buyers are now finding it harder than ever to purchase property in major cities across China.26 Nevertheless, despite policy tightening, Chinese property demand remains strong.
Case in point: Hangzhou. Chinese buyers in Hangzhou rushed to book 5,105 property purchases a few days ago on 18 September27, which happened to be the day before purchase restrictions clamp down on property sales to non-city residents were enforced.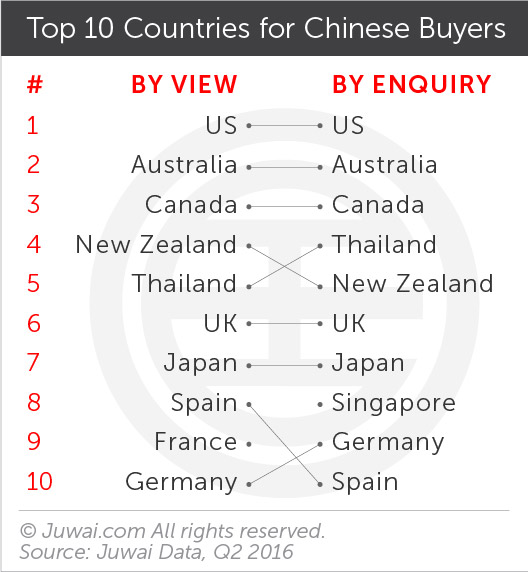 Hence, as domestic conditions get tighter and prices rise, overseas real estate is looking more and more attractive than ever for Chinese buyers.
And seeing as policy clampdowns in China are coinciding with the Golden Week period, this makes Golden Week a fantastic opportunity to tap into the demand from China's growing base of internationally-minded property investors.
So, what we can expect is that Fly 'n Buy Chinese will be out in force and with their eyes open for great property deals in the holiday hot spots listed above, as well as in the top 10 countries on Juwai.com – five which happen to also be in the above list of preferred tourist destinations for Chinese.
Get China-ready this Golden Week: here's how
With these factors in mind, this October's Golden Week is an unmissable opportunity to boost your sales. With competition on the rise, get China-ready by putting these sales strategies in place to maximise your appeal to Chinese buyers:
Update your property listings: Detail makes all the difference with Chinese buyers, so make sure your property descriptions are updated with important features, including local transport connections, professional-standard photos, and an extensive range of contact options.
Match your market: Chinese buyers place heavy emphasis on local education options, transport links, surrounding Chinese communities, local attractions, medical facilities, and long-term investment prospects. So, make sure that your listings feature these key elements to maximise your appeal to Chinese investors.
Offer tailored tours with a personal touch: This not only helps your Chinese clients get the most out of their visit, but also offers the fullest picture of the local lifestyle. This could range from picking them up at the airport to bringing them on university tours, or even from taking them to sample the local fare to introducing them to the local Chinese community. If you don't speakMandarin, engaging a translator is also an excellent strategy to help deal with buyer's questions and concerns.
Walk them through the process: While Chinese buyers may be wowed by the prospect of an overseas property asset, some remain unaware of the processes required to make a purchase. To manage expectations of the sale process, consider listing the required steps to complete a deal. Connecting a potential buyer to a Chinese-speaking lawyer or immigration officer can also be a vital tactic that could just help you seal the deal.
Go social: Social media isn't just one way that Chinese consume information, it's also the most popular way to connect and stay in touch with Chinese buyers. So, get savvy with the China's top social media by learning about the importance of WeChat and Weibo, and start promoting your properties directly to China's 481.5 million social media users. New to China's social media? Get started on how to go social in China here.28
Now that we've shared some tips on getting China-ready this Golden Week, we wish you best of luck with grabbing a share of the October Golden Week sales bonanza. And if you can't build your market plan in time, don't worry – China's next Golden Week opportunity is happening in January 2017, which is during Chinese New Year.  Contact Jason E. Cook today on how to market your Bellevue home to the many Chinese buyers out there.  Increase your Bellevue Home Values with him!
Sources: 1. China Travel Outbound: More than 750 million Chinese expected to travel; 2. Statistics New Zealand; 3. Daily Mail: Is everybody in the picture?; 4. Citylab: China's 50-lane traffic jam is every commuter's worst nightmare; 5. China Daily: Chinese tourists spend over $830m in Japan during Golden Week; 6. Retail Gazette: Golden Week to bring £600m fortune to UK retailers; 7. People's Daily: Chinese tourists' overseas spending ranks first in the world; 8. Hurun Report "The Chinese Luxury Traveller 2016"; 9. Japan Tourism Ministry: Tourism Statistics; 10. ITA: 2016 Monthly Tourism Statistics; 11. Guardian: Chinese pour $110bn into US real estate, says study; 12. Nikkei Asian Review: Beijing crackdown can't kill Chinese love for K-pop; 13. Yonhap News: Korean food widening appeal among Chinese people; 14. The Moodie Davitt Report: Strong Chinese group tourist arrivals boost South Korean duty free market; 15. Korea Tourism Organization: Monthly Statistics of Tourism; 16. Forbes: Chinese tourists choose New Zealand over Europe amidst terror concerns; 17. Otago Daily Times: Interest increases from Chinese buyers; 18. The Australian: Chinese tourist boom hits all-time high; 19. Bureau of Statistics; 20. Business Insider Australia: RANKING: Australia is at the top of the Chinese tourist wish list; 21.The Telegraph: What Chinese tourists really like about Britain; 22. Evening Standard: Brexit triggers influx of Chinese tourists to London for luxury shopping; 23. Mailman: Macy's Golden Week holiday campaign; 24. International Business Times: Why Chinese prefer to spend millions in London; 25. Domain: Chinese Golden Week brings $10.5 million cheer to Maroubra family; 26. Reuters: China should apply more differentiated property policy as prices surge: Xinhua; 27. China Securities News: 5105套!限购前一天杭州新房、二手房成交破纪录; 28. China Internet Watch: 482M Chinese visited social media per month in 2015;